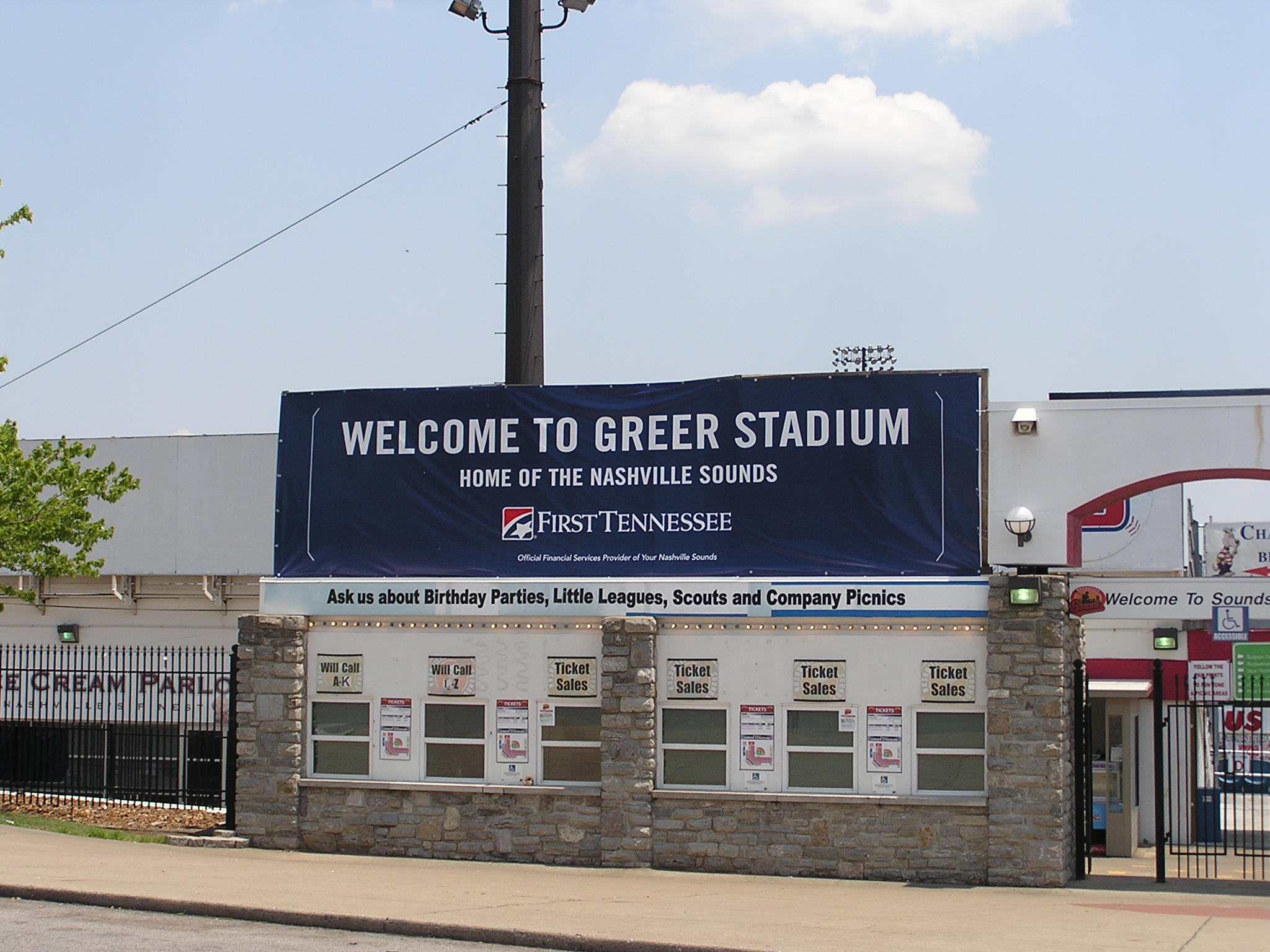 TEAM ::: NASHVILLE SOUNDS
LOCATION ::: NASHVILLE, TENNESSEE
MY FIRST VISIT ::: JULY 1, 2006
OPPONENT ::: ROUND ROCK EXPRESS
LEVEL ::: PACIFIC COAST LEAGUE 'AAA'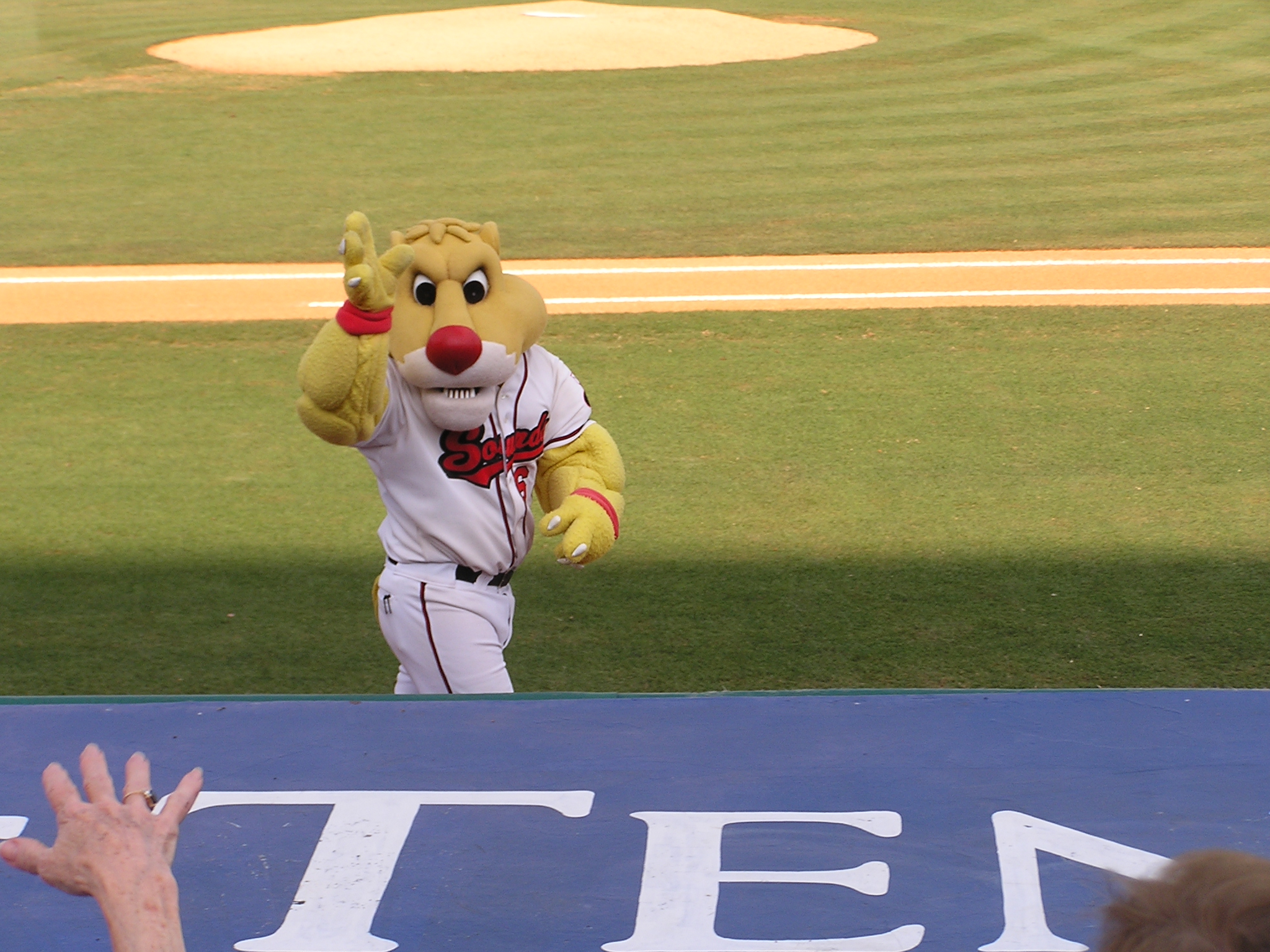 RATINGS

BALLFIELD ::: A
SCOREBOARD ::: A+
FOOD ::: A
FACILITIES ::: B+
MASCOT ::: A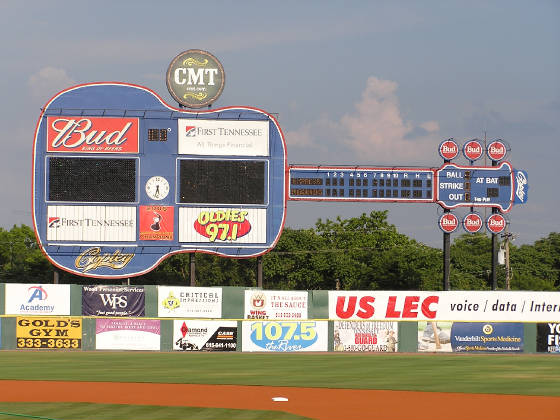 MY TAKE ON THE PARK
AFTER VISITING GREER STADIUM IN NASHVILLE DURING THE SUMMER OF 2006, I COULD ONLY THINK OF ONE REASON TO SEE THIS CLASSIC PARK. WELL, I HAVE ANOTHER. 2007 WILL BE THE LAST SEASON THE NASHVILLE SOUNDS WILL CALL HERSCHEL GREER STADIUM HOME.

THE MAIN REASON OF COURSE TO SEE A GAME AT GREER STADIUM IS OF COURSE THE SCOREBOARD. I HAVE NOT SEEN THE PLANS FOR THE SCOREBOARD IN THE NEW PARK BUT I DOUBT IT INCLUDES A 60 FOOT LONG AND 58 FOOT HIGH GUITAR
SCOREBOARD. ASIDE FROM THE GUITAR, GREER STADIUM IS AN OLDER PARK THAT SERVES ITS PURPOSE, IT PROVIDES FANS A PLACE TO SEE A GAME.
LOCATED OUTSIDE THE CITY SITS GREER STADIUM. UPON ARRIVING AT THE PARK, FREE PARKING AWAITS, ALWAYS A PLUS IN MY BOOK. THERE IS PLENTY OF PARKING BUT ON A FIREWORKS NIGHT WITH A FULL HOUSE IT MIGHT TAKE SOME TIME GETTING OUT.

UPON ENTERING THE STADIUM, THERE IS A WALKWAY WHERE YOU CAN FIND
CONCESSIONS OR AN ALCOHOL BRACELET. THE CONCESSION STANDS ALL ARE NAMED AFTER SOUNDS PLAYERS OF THE PAST, SOMETHING I REALLY LIKED ABOUT THE PLACE. THE AREA THOUGH IS DARK AND STUFFY, ONE OF THE FEATURES THAT THE NEW PARK DESIGN HAS ELIMINATED. THE SOUVENIR STORE IS LOCATED BEHIND THE UPPER LEVEL AND SEEMS TO HAVE EVERYTHING IN A STAND TYPE STORE.

AS FOR THE PARK, IT SERVES ITS PURPOSE. THE GAME HERE IS WHAT THE PARK WAS DESIGNED FOR AND THE GAME IS HANDLED WELL. THE SCOREBOARD IN LEFT IS HARD NOT TO LOOK AT, BUT IT DOES NOT GIVE YOU ANY REASON AT ALL TO LOOK AT IT. THE LINE SCORE RUNS ALONG THE NECK AND THE BALL / STRIKE / OUT
COUNT IS ON THE PEG HEAD. THE BATTER INFORMATION IS ON THE MAIN PART OF THE GUITAR ALONG WITH SOME ADVERTISEMENTS.

A TRIP TO NASHVILLE TO SEE THE SOUNDS IS A GREAT NIGHT OUT. THE GAMES ON SATURDAY START AT 6:00 SO YOU STILL HAVE TIME TO GET OVER TO THE GRAND OLE OPRY AND SEE THE SATURDAY NIGHT SHOW AT 9:30. DURING THE SUMMER MONTHS, I WOULD ADVISE TO SIT ON THE FIRST BASE SIDE, THE SUN SETS BEHIND FIRST SO YOU GET THE SHADE EARLIER. THE SHADE IS VERY IMPORTANT DOWN SOUTH IN JULY.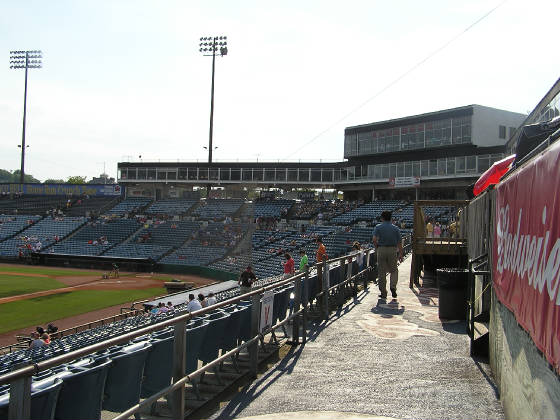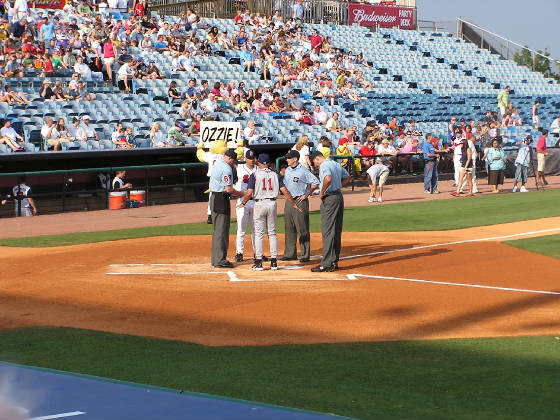 THE LINE UPS

ROUND ROCK EXPRESS MANAGER :::
4 Jackie Moore

NASHVILLE SOUNDS MANAGER :::
6 Frank Kremblas
ROUND ROCK EXPRESS

35 Charlton Jimerson cf
18 Joe McEwing rf
15 Brooks Conrad 3b
30 Luke Scott lf
7 Royce Huffman 2b
33 Alan Zinter 1b
55 Humberto Quintero c
19 Cody Ransom ss
21 Mark McLemore p
44 Brandon Puffer WP
37 Roberto Giron S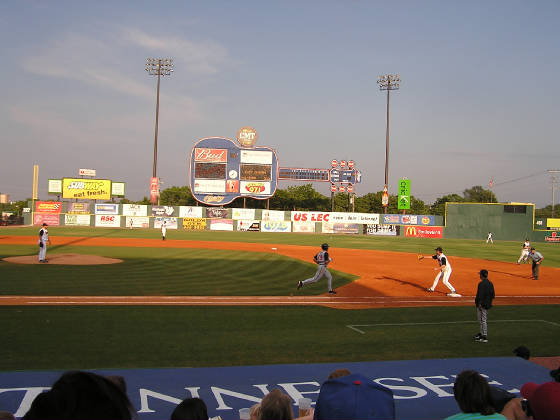 NASHVILLE SOUNDS

2 Tony Gwynn cf
12 Brent Abernathy lf
43 Graham Koonce 1b
37 Nelson Cruz rf
10 Mike Rivera c
21 Vinny Rottino 3b
9 Zach Sorensen 2b
5 Ozzie Chavez ss
35 Dana Eveland p
34 Carlos Villanueva LP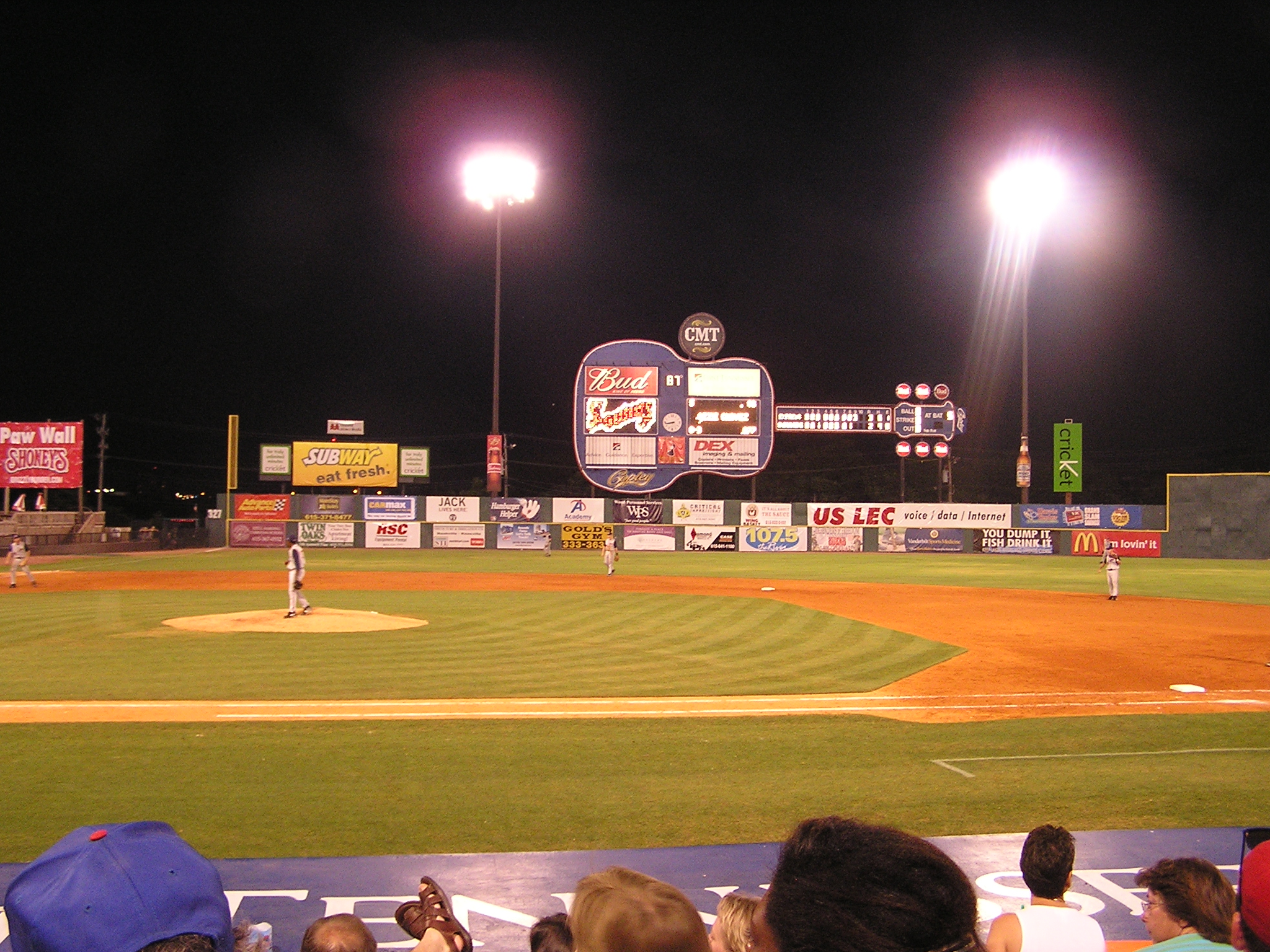 EXPRESS 000 000 003 3 6 1
SOUNDS 001 000 010 2 10 0

TIME ::: 2:45
ATTENDANCE ::: 7,640
WEATHER ::: 95 PARTLY CLOUDY / SLIGHT BREEZE

SEND ME AN E-MAIL

LINKS
The Official web site of the Nashville Sounds
A link to the Sulphur Dell - Nashville's Historic Ballpark from the 1870s
The web site of The Grand Ole Opry
The Tennessee Vacation Web Site
A link to the Cracker Barrel Old Country Store
The Official site of the Tennessee Titans NFL Team